I love Jango. I just decided.

I'd been a free member for quite a while, but I hadn't even logged in. I was on the verge of cancelling it because it now costs $10 per month. Then, on a whim, I decided to give it a real chance before I did. I added a few credits to my account, chose some similar artists…and let it ride for a week or two. All of a sudden, I started getting fans…meaning, people who listened to my music liked it and clicked a button to become a fan of mine. This made me really curious…so I decided to investigate further…
In the last two months I've started to investigate some of Jango's newer features…and I'm dumbfounded with how cool Jango is now. Dumbfounded. It's better than MySpace and MP3.com ever thought about being. In fact, it's what they SHOULD have been…it introduces your music to people who are looking for artists that sound like you…and it lets you get stats about the listeners and meet them…and Jango seems to has a viable business model for the artists and the site…and almost no spam…(can you hear me MySpace??)…but don't get me started…
Here are the basics: Jango is a website—actually, it's two. There's a listener site and an artist's site. As a listener, you can log in and listen to music based on artists you like (Prince, Beatles, Hendrix, Maroon 5, whoever)…and you can do the normal social networking thing you can do on sites like Facebook and MySpace (create a profile, friend people, comment, send emails, etc.). It's cool for listeners, because they get music pushed to them based on their preferences (a la Pandora). In other words, they get a radio station to listen to.  They don't have to dig around for music like on MySpace…or on the web. The music comes to them–and it's based on the bands they like.  They also get to hear cool, new independent artists—like me and you—right alongside their favorite major label artists!
The benefits for listeners include:
They get to hear music based on their preferences–without paying for it.  They don't have to go out looking for music.
They get to interact with other music buffs in a familiar social-networking kind of way.
They get to interact with artists–including fanning artists they like.
They won't get spammed by artists they've never heard of.
On the Jango artist site, artists can buy or build credits…and apply those credits for airplay, by song. You get a couple of hundred credits for signing up, and your $10/month gets you 250 credits per month. You can even refer other musicians to Jango to get referral credits (like I'm doing with the Jango links in this article–if you sign up after clicking one of these links, I get a few airplay credits for recommending it to you). You can allocate any of those credits you buy or earn to the songs you upload…and you can target your airplay by location, similar artists, and age. For example, if you music is suitable for Prince fans (like mine), you can choose Prince as a similar artist and your music will be played for listeners who have said they like Prince.
Not only that, but you get stats on who has listened to your song, when, and where they are located (geographically). Not only that, but you get it real-time! Imagine being able to see who is listening to your music as they are listening to it!! (This doesn't exist anywhere else that I know of right now.) Notice I said "listeners" and not fans. The stats I'm talking about now are for those casual listeners who your song as been played for…these folks don't have to be your fans for you to get important feedback from them…like how old they are, what city/state they are from, and what other artists they like.
Here's an example of some of the reports you can run: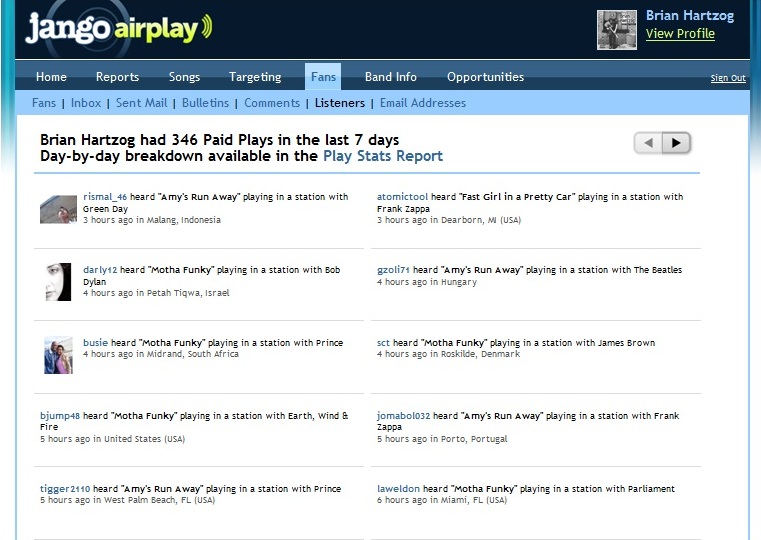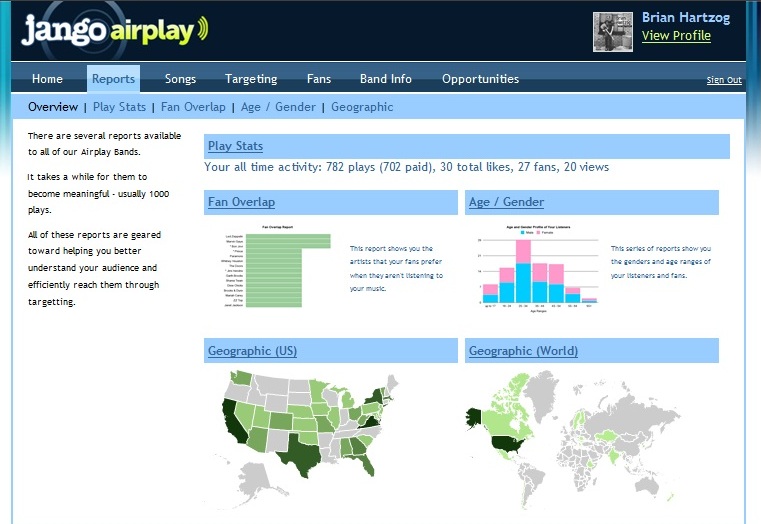 But (as they say) wait—there's more! Jango suggests other similar artists for you to add to your list. For example, my music is suitable for fans of Prince, Bob Dylan, Jimi Hendrix, James Brown, and the Beatles. (At least, I think so.) I have them as similar artists. After a couple of weeks, however, I noticed that Bon Jovi fans liked one of my songs. Bon Jovi fans? Really? My music is funk-and-roll…a mixture of funk and classic rock…and I'm a huge fan of great lyrics and spoken word poetry…sure, I'm a child of the 80's…but Bon Jovi? Really? Hey—the stats don't lie…so I added Bon Jovi to my similar artists. Now, I can test that using their reports and see if I get any more fans that way.
Speaking of "fans"…Jango lets "listeners" who really like your music become "fans"…i.e. they get to connect to you and appear in your fan list. You can then message your entire fan base or you can message them individually.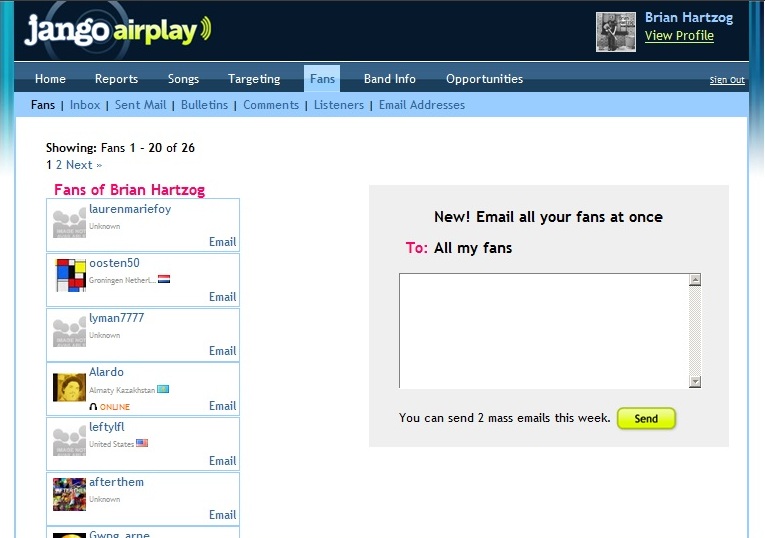 Imagine for a minute, how powerful this is. Imagine how fast you could convert listeners into fans into paying customers. Let's assume you have a great mailing list set up…like through Aweber and some autoresponders…and you know what percentage of people on your mailing list will eventually make a purchase or come to your show. In short, imagine that you have your "back-end" process set up and you knew how much each member of your mailing list is worth…if you use Jango as part of your front-end to generate your leads…and put in about $10/month until you figure out what works…and up it only when you know how many of your Jango fans will buy your music, imagine what kind of fanbase you could start generating. Ok, I know most musicians don't necessarily know how to do the email list back-end stuff very effectively…but it's a skill you can easily acquire. In fact, I may offer a course on it at some point…email me (brian@brianhartzog.com) if you're interested. And if that feels a little advanced for you right now…I think Jango is still worth it…I mean, it's worth it for the stats alone. Where else can you have your music played for people who like similiar artists and get immediate feedback and demographics on who likes your music enough to become a fan. You can learn a lot from the listener stats just by uploading a couple of songs and choosing some similar artists.
I think Jango has a LOT of potential…in fact, I think it's what indie artists needed a long time ago.
You can give Jango a try for free at: http://airplay.jango.com/invites/22606
And if you do…make sure to leave a comment to let me know about your experience…