Bob Dylan Home
Bob Dylan Biography
Bob Dylan Discography
Bob Dylan Song Lyrics
Bob Dylan Songwriting
Bob Dylan Store
Bob Dylan Links
For more information
Brian Hartzog's Bob Dylan-esque Songs
If you like Bob Dylan, you should check out these songs of mine. I don't try to copy Bob Dylan...cuz too many folks already do that (snicker)...but sometimes I do slip into a Dylan moment here and there.
Some of my other musical influences include the Beatles, Jimi Hendrix, Prince, James Brown, and Parliament. I guess you'd technically call my music "alternative"...most of it is a little funkier than these tunes...but I'd love to know what you Bob Dylan fans think of my songs. Please let me know. You can check out more of my music here.
Song List

Description

MP3

Amy's Run Away

The story of this song is kinda the girl from "Like a Rolling Stone" mixed with the girl from "Tangled up in Blue". For me, it's the time-tested childhood story of every failed starlet turned exotic dancer.
Listen to MP3

All By Myself

The phrasing of the vocals in this song is kinda Tom Petty does Dylan. The guitars are pretty alternative, but the Dylan influence is definitely there.
Listen to MP3

Daily Bread

This song is from my first CD, The Smashing of Pictures. It's a weird mix of the lyrical style of "Highway 61" and pseudo-Jimi Hendrix style guitars.
Listen to MP3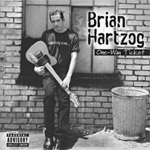 Like these songs?
Buy the CD!