David Bowie Home
David Bowie Biography
David Bowie Albums
David Bowie Song Lyrics
David Bowie Songwriting
David Bowie Store
David Bowie Links
For more information
Brian Hartzog's Songs that sound like David Bowie
Here are a few of my songs that people compare to early David Bowie.
Song List

Description

MP3

Daily Grind

The anti-corporate America song. It's a bit proto-punk a la early David Bowie.
Listen to MP3

Make a Little Room for Me

A strange "musician on the road" song.
Listen to MP3

All Over You

This song is from my first CD, The Smashing of Pictures. It's really a bit like me doing Prince doing James Brown....but some folks compare it to David Bowie.
Listen to MP3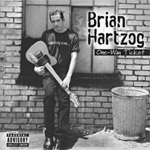 Like these songs?
Buy the CD!