Beatles Home
Beatles Biography
Beatles Discography
Beatles Song Lyrics
Beatles Songwriting
Beatles Store
Beatles Links
For more information
My biggest musical influence: The Beatles
The Beatles are my biggest musical influence. I've learned more about songwriting from John Lennon and Paul McCartney than I have from all the music books I've read, combined. Quite simply, I think the Beatles are the greatest rock and roll band that ever existed.
Although this website provides information about the Beatles, it is not a true fan site...it doesn't talk about Beatle haircuts, screaming Beatles fans, or Beatles lunchboxes. If you're looking for that kind of site, you'll have to go elsewhere. (Check out my links page for my list of the best Beatles sites.) Instead, I've designed this Beatles site for the true music lover, complete with an alphabetical list of Beatles song lyrics, a Beatles discography, etc. If you're a songwriter, a guitarist, or a musician...or if you're just a true music lover...this site is for you! It will tell you which Beatles albums to buy, how John and Paul (and George) created their songs, and what makes Beatles recordings so great.
My hope is that this site will inspire you enough to buy that Beatles CD you don't have yet...to learn to play that Beatles song that you always wanted to...and to understand why I think John Lennon and Paul McCartney are the greatest rock and roll songwriting team that ever lived.
If you're already a huge Beatles fan, I hope you'll take the time to listen to a couple of my Beatlesque songs...I'd love to know what you think: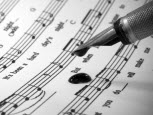 Looking for Beatles sheet music?
Check out http://www.thebeatlessheetmusic.com!